Gabrielle`s story: How T:25 Knee made her feel good again.
Gabrielle`s story: How T:25 Knee made her feel good again.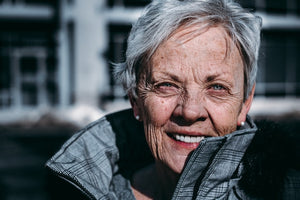 Every day we receive calls for our customers to share with us how grateful they are for finding our product. We want to help even more people, that is why we are starting this series featuring success stories.
Today we will share with you Gabrielle`s story. She is 70 years old and called us a few weeks ago to share her experience in T:25 Knees after wearing them for 10 days. Back in the days, she was a nurse in the OR-ICU-CCU, and most recently Rehab during her 45-year career.
Like many of us, she has experienced several problems with her knees. Her knees have been so painful the last 10 years that she receives gel shots, followed by a cortisone shot 45 days later. Gabrielle also mentioned that she has fallen once and will have a total knee operation on her left knee.
Looking for help with these issues, she reached out to Topical Gear. Bill Bue was happy to take the time to explain how T:25 Knees will benefit her. She got the product home really fast and it fitted perfectly. Gabrielle wears T:25 Knees some 4 hours a day because she is comfortable while wearing the product.
Her reactions to the product were incredible. The gait in her left leg has improved, she can lift her left leg higher when walking. Poor gait in the left leg was the reason she fell weeks ago.
One more great thing she shared is that she just got a gel shot and usually follows that shot with a cortisone shot 45 days later, she said she does not plan to get that shot because her knee feel so good !
Finally what made us really excited is that when she is NOT wearing T:25 Knees her knees feel good! That means that the medial quads and hamstrings are participating in her movement 10 days after wearing them!
Now Gabrielle is feeling perfect going to work in her garden. She is so happy with T:25 Knees that she recommend our products to all of her friends.
Do you have a story to share with us? We would be happy to have your story in the Topical Gear blog.
About T:25 Knee:
T:25 Knee is designed to TRAIN SPECIFIC MUSCLES providing some 150 to 200 hours of knee Rehab post-injury, post-op. 50 yr + patients report return to activity in 30 days during COVID-19. Keep your knees stable going up and downstairs, on walks, during activity, or at work.
Get yours from here!